Posted on 26. Nov, 2010 by Christina in Create Your Legacy, Success Mindset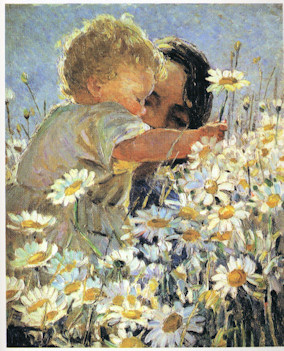 I want to talk to you today about something that really touched me when I read it for the first, second, third, 18th time, it's about… Picking Daisies!  When I found this little saying a while back,  it just really stuck with me and really had me a thinking… "What would I do differently, if I could do it all over again?" I know one thing for sure, I would have taken a lot more time, if I had only realized how fast my little boy would grow up, to have spent more time enjoying the little things with him, like smelling and picking more flowers with him. Man, I sure do miss those days!
Read for yourself down below and see how this short, to the point saying can make you question your own self being and what's really important in life.  The subject of living life with purpose and passion is something so dear to my heart, because it's so very personal and painful when I think about it!
 Picking More Daisies:
When the late Nadine Stair of Louisville, Kentucky, was 85 years old, she was asked what she would do if she had her life to live over again.
"I'd make more mistakes next time," she said. "I'd relax. I would limber up. I would be sillier than I have been on this trip. I would take fewer things seriously. I would take more chances. I would climb more mountains and swim more rivers. I would eat more ice cream and less beans. I would perhaps have more actual troubles, but I'd have fewer imaginary ones.
"You see, I'm one of those people who live sensibly and sanely hour after hour, day after day. Oh, I've had my moments, and if I had to do it over again, I'd have more of them. In fact, I'd try to have nothing else. Just moments, one after another, instead of living so many years ahead of each day. I've been one of those persons who never goes anywhere without a thermometer, a hot water bottle, and a raincoat. If I had to do it over again, I would travel lighter than I have.
"If I had my life to live over, I would start barefoot earlier in the spring and stay that way later in the fall. I would go to more dances. I would ride more merry-go-rounds and I would pick more daisies! (true words spoken from Nadine Stair.) LOVE IT!
Touching A Soft Spot yet?
A question for you, did Nadine's little story kind of touch a soft spot in you? Are you asking yourself what will my story be like in 10 to 20 years from now? Will you be like so many others, that had dreams, but said to themselves, next year will be the year I will do that?
I know how much I loved her little, but powerful story, and how I believe it made me really start thinking about my life, what about you? Have you put the things that are truly important to you on the back burner, like family, friends, fun? Has life just been getting in the way? Never enough time, right? Just too busy to take the time to do the small things that make you happy, this occurs daily with most people. Isn't it just so sad that we go through life just too busy?
I love helping you see how by just taking a few more seconds today out of your busy life to remember how short and precious everyday is, that it will inspire you to go after your dreams… so take the chance on yourself! I know it will be worth it!
You gain strength, courage, and confidence by every experience in which you really stop to look fear in the face. You must do the thing which you think you cannot do. – Eleanor Roosevelt
With courage you will dare to take risks, have the strength to be compassionate, and the wisdom to be humble. Courage is the foundation of integrity.
Today I really want to encourage you to take a risk on yourself, so that you have No Regrets about the things you didn't take the time to do in your life. If you think that you can't pick more daisies in your life… You're Wrong! Others are looking for you, your story, your knowledge so don't be afraid to share it!
Do me a huge favor and share this with your friends on Facebook and Twitter if you enjoyed it, and PLEASE leave me a comment, it will be greatly appreciated